Evangéliumi Hírnök - Gyülekezeti hírek .
TORONTÓ, Ontario, CANADA
lelkipásztor: Dan László
(A fényképek miatt az oldal lassan töltődik. Türelem képeket terem.)
TÁBORI OLDAL
Emlékezzél vissza a megtett útra - aranymenyegző
Nyár elején az ünnepek sokasága közepette egy rövid időre megálltunk és elcsendesedtünk. Gyülekezeti és tábori alkalmaink mellett egy családi eseményre emlékeztünk vissza. Kuti János testvér és kedves felesége Mária ötven évvel ezelőtt kötött házasságot. Jó volt testvéreinkkel együtt elcsendesedni és hálát adni a megtett útért. Testvéreink sokakhoz hasonlóan többször cseréltek hazát, sok próba és nehézség volt az életük része, de az Úr kegyelméből megtartotta őket mindvégig egymás mellett. Testvéreink köszöntése a Rámai Táborban történt, azon a helyen, ahol ők maguk is oly sokat fáradoztok, és mind a mai napig végzik azt a munkát, amit erejük enged, és amivel testvéreik megbízzák őket.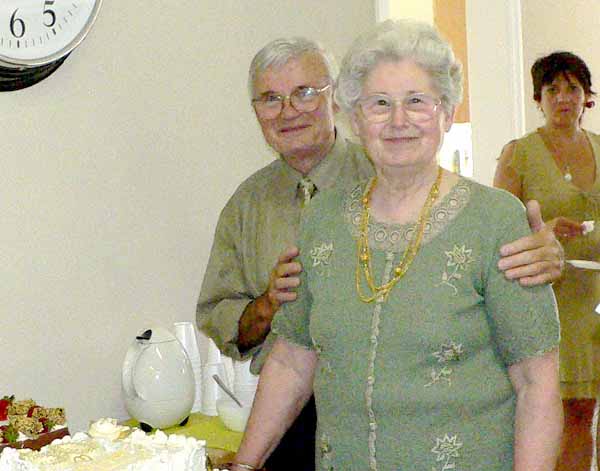 Az évek, évtizedek elszaladtak, a haj megőszült, de az egymás iránti szeretet és hűség megmaradt. Jó volt velük együtt megemlékezni az elmúlt ötven esztendőről, és hálát adni Istennek megtartó kegyelméért. Kívánjuk testvéreink életére továbbra is Isten áldását. Hisszük, hogy amíg tart életük, addig az Úrhoz, egymáshoz, és a közösséghez is hűségesek lesznek.
Dan László
---
2006. március - Ski trip
This year, the leadership of the youth decided to have the ski trip in Canada. 25 of us were able to enjoy the beautiful Blue Mountain Ski Resort, which is 2 hours north west from Toronto. Young people came from New York, Cleveland, Chicago, Alhambra, Virginia and Toronto. The reason for the ski trip was that the young people would be able to build friendship and develop a deeper relationship with God. Thursday, Friday and Saturday during the day, young people could ski and snowboard. For many of us, the experience is getting more exciting every year, because as we practice, our skills are bring developed.

Each night, we got together and spent time to study the Word of God.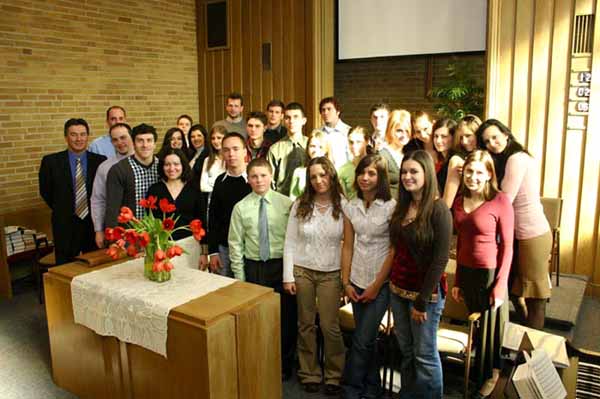 The youth on Sunday morning after the service at the First Hungarian Baptist Church of Toronto
Thursday night, Rev. Laszlo Dan was teaching and Friday night Kornel Gerstner was sharing from the Scriptures. Sunday morning, all of us went to the Hungarian Church, where Zsolti Kulcsar was leading the prayer time. After singing, Kornel and Laszlo were encouraging the church to develop "spiritual muscles," and take the leap of faith that pleases God.Those of us who have not been going to the gym regularly were not able to enjoy skiing and snowboarding as much as those who work out repeatedly. However, this could happen to us in the spiritual sense. If we don't work out regularly in our spiritual gym, often we cannot fully enjoy God's blessing.

Thank you so much for all your prayers and financial support. Please continue praying for the Hungarian Youth, because I believe we have a great future. This year is a special one with many opportunities. Here are couple of them: (spring youth convention, MABAVIT camp, Fall youth convention and the anniversary of the First Hungarian Baptist Church of New York). May God continue to pour HIs showers of blessings upon your life.

Kornel Gerstner