Monthly of the Hungarian Baptist Convention of North America .
December, 2004
PALM BAY, FLORIDA
"

I lift up my eyes to the hills - where does my help come from? My help comes from the Lord, the Maker of heaven and earth. He will not let your foot slip - he who watches over you will not slumber; indeed he who watches over Israel will neither slumber nor sleep. The Lord watches over you - the Lord is your shade at your right hand; the sun will not harm you by day, nor the moon by night. The Lord will keep you from all harm - he will watch over your life; the Lord will watch over your coming and going both now and forevermore

"
Psalm 121.

Everyone has heard or read about the two devastating hurricanes that crossed over our city last month. Both caused a lot of damage and great anxiety. The first one, hurricane Francis, was very powerful and our electric service was out for nine days. Those of us on wells didn't have water - pump not working. Phone service was out also. We cleaned up the yard of the tree limbs etc. and it was a big job.

We left for Europe in the midst of all this mess because our reservations were made and paid for. Friends took care of our home in our absence. While in Europe, hurricane Jeanne came through our area and it was more destructive than Francis. A very frightening experience. Electric power and phone was out for another six days. We were very concerned, but trusted in our Lord - He takes care of His own.

Our church family looked after each other with food, water, lodging and prayerful support. We thank God there was not any loss of life. Dr. Ladislau Biro and the Matrai's suffered the most damage. Both are unable to live in their homes. Zoltan Szabo in Vero Beach also had very severe damage to his home. Locally, everyone has a damaged roof and internal water damage. Church groups from many states came to help with yard cleanup or with temporary covering on the roof. It is comforting to know that Christians are always ready when there is a need.

Our church building was damaged and we are unable to hold services in it until it is repaired both inside and outside.

In a tragedy, people tend to get closer together to share the burden and extend a helping hand. Maybe God is trying to teach us patience and faithfulness as in the days of Job. It is now a waiting period for supplies and workman which may take several months. Businesses get priority. We are thankful for State and Federal help which is available to low income families.

We want to thank all our Christian friends who have expressed their love, care and concern by phone calls, letters, cards and most of all for your prayerful support. They meant a lot to us. God is so good - He answers prayers. Please continue to remember us as we get back to normal living again.

We do not always have hurricanes - the sun is shining today and temperatures are in the 80's. Come down to visit us. God bless you all.

Ethel and Ernest Kish
---
THE ART OF MAN-FISHING

"

And He said unto them, Follow me, and I will make you fishers of men.

"

Matt. 4:19
I. When we are fished for and caught, we need to remember:

- Not only what we are, but also what he can make us

- We are not yet made all that we shall be

II. The duty we need to perform -

'

Follow me

'

A.

What following Christ implies:

1.

Life - You cannot be a fisher of souls without grace in your heart

You have a new life if:

- You see & sense your weakness and your need of a guide

- You see & sense the evil of sin

- You see & sense the true value of Christ

2.

You must not make man your rule

3.

Renouncing of your own wisdom

- Carnal wisdom vs. heavenly wisdom

B.

Follow Christ in the following sense:

1.

Be separate unto Christ

- Fish will not be fishers / a worldly Christian will not convert the world

2.

Be abiding with Christ

- Catch his Spirit & learn how to fish

3.

Be concerned for the lost

- Do you really love them?

- Do you really believe God?

4.

Be heavenly in your private conversations

- Learn the heavenly chemistry of extracting spiritual things out of earthly things

III. The Promise that Christ has left us -

'

I will make you fishers of me

n'

A.

Learn how to be efficient in fishing for souls.

1.

Negatively: Gifts will not do the business!

- Do not be proud if you are gifted

- Do not be discouraged if you think you are not gifted

2.

Positively: Fish with the power of His Spirit

- Exclusive direction B by no other means

- Preaching of the Cross

B.

Expect Christ to fulfill his promise

1.

He will make you fishers of men by ALL of your experiences

- He is always at work

2.

He will make your heart sensitive

- If you follow Him closely, you shall be tenderly guided

IV. If you forget the precept, you can also forget the promise!

- Fishing is an act of faith

- Fishing is an act of dependence

- He is the one driving the fish into the net

- It is an honor & privilege to fish for souls

Felix Pardi

* Sermon notes for the Saturday night preaching at the Detroit Youth Rally (Nov 13-14).

Audio recording is available. Email the Editor.
---
November, 2004.
BETHESDA MEETS CHARLIE AND FRANCIS
Most of the members of Bethesda Baptist Church in Palm Bay Florida live here in retirement to escape the frigid winters of snow, ice, and even blizzards of the North and New England. However, things are not perfect here in sunny Florida, and the folks at Bethesda had this made very clear to them as they faced both Charlie and Francis Hurricanes these past few weeks.
Charlie dumped a lot of rain and high winds on us, but no real damage. We were not able to have services on Sunday August 29 due to the electricity being out both at the church and the Bethesda home adjoining. Before we could get things back in order, Francis hit us straight on. We boarded up the church, but about a third of the shingles were torn off the roof, and about a third of the carpet got soaked, and a number of the ceiling tiles were warped and sagging.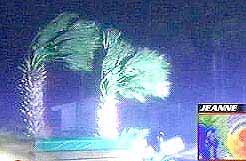 Some of the members stayed and rode out the storm in their homes. Pastor and Mrs. Alexander boarded up their home and only lost a few shingles. They took 93 year old Esther Bankuti to their home for a week till her electricity and water were restored. Janka Biro was also in that condition, but did not want to leave her home except for a day at a time. Dr. Ladislau Biro who is 98 and Mrs. Biro went to Tallahassee to be with a son. It is really good that they did for their roof was partially torn off, and about a fourth of their ceiling fell in on the furniture etc. Since their power has been off for nearly two weeks, the house is full of mold and mildew. Irma and Michael Matrai also left and returned to find a good bit of damage to the outside, but none to the interior of their home. Ernest and Ethel rode out the hurricane in their home with out and real damage, but without power or water. They had already made reservations and had their tickets for a trip to Hungry and left a couple of days after the storm struck. Their home is closed up without electricity so we hope everything will be alright when they return in a couple more weeks.
The Bethesda Retirement Home now under private ownership, was evacuated for almost a week, but they are returning today, Thursday the 16th. We have not been able to have church services for two weeks for we are without electricity, and the roof has not been repaired. We will be having Sunday morning services this week however. No one else had extensive damage, and above all else, and we thank God that none of our folks were injured. We thank all of you for your prayers and concern.
Rev. Denzel Alexander, Pastor
Our prayers are with our brothers in Florida, Georgia and Alabama who suffered extensively as two more hurricane attacked them after Pastor Alexander wrote this article. (Ed.)
---
Restoring Broken Fellowship
[God] has restored our relationship with him through Christ, and has given us this ministry of restoring relationships. 2 Corinthians 5:18 (GWT)
Relationships are always worth restoring.
Because life is all about learning how to love, God wants us to value relationships and make the effort to maintain them instead of discarding them whenever there is a rift, a hurt, or a conflict. In fact, the Bible tells us that God has given us the ministry of restoring relationships. For this reason a significant amount of the New Testament is devoted to teaching us how to get along with one another. Paul wrote, "If you've gotten anything at all out of following Christ, if his love has made any difference in your life, if being in a community of the Spirit means anything to you, ... Agree with each other, love each other, be deep-spirited friends." (Phil 2:1-2) Paul taught that our ability to get along with others is a mark of spiritual maturity. (Rm 15:5)
Since Christ wants his family to be known for our love for each other (Jn 13:35), broken fellowship is a disgraceful testimony to unbelievers. This is why Paul was so embarrassed that the members of the church in Corinth were splitting into warring factions and even taking each other to court. He wrote, "Shame on you! Surely there is at least one wise person in your fellowship who can settle a dispute between fellow Christians." (1Kor 6:5) He was shocked that no one in the church was mature enough to resolve the conflict peaceably. In the same letter, he said, "I'll put it as urgently as I can: You must get along with each other." (1Kor 1:10)
If you want God's blessing on your life and you want to be known as a child of God, you must learn to be a peacemaker. Jesus said, "God blesses those who work for peace, for they will be called the children of God." (Mt 5:9) Notice Jesus didn't say, "Blessed are the peace lovers," because everyone loves peace. Neither did he say, "Blessed are the peaceable," who are never disturbed by anything. Jesus said, Blessed are those who work for peace - those who actively seek to resolve conflict. Peacemakers are rare because peacemaking is hard work.
Because you were formed to be a part of God's family and the second purpose of your life on earth is to learn how to love and relate to others, peacemaking is one of the most important skills you can develop. Unfortunately, most of us were never taught how to resolve conflict.
Peacemaking is not avoiding conflict. Running from a problem, pretending it doesn't exist, or being afraid to talk about it is actually cowardice. Jesus, the Prince of Peace, was never afraid of conflict. On occasion he provoked it for the good of everyone. Sometimes we need to avoid conflict, sometimes we need to create it, and sometimes we need to resolve it. That's why we must pray for the Holy Spirit's continual guidance.
Peacemaking is also not appeasement. Always giving in, acting like a doormat, and allowing others to always run over you is not what Jesus had in mind. He refused to back down on many issues, standing his ground in the face of evil opposition.
HOW TO RESTORE A RELATIONSHIP
As believers, God has "called us to settle our relationships with each other." Here are seven biblical steps to restoring fellowship:
1. Talk to God before talking to the person.

2. Always take the initiative.

3. Sympathize with their feelings.

4. Confess your part of the conflict.

5. Attack the problem, not the person.

6. Cooperate as much as possible.
Paul said, "Do everything possible on your part to live in peace with everybody." (Rm 12:18) Peace always has a price tag. Sometimes it costs our pride; it often costs our self-centeredness. For the sake of fellowship, do your best to compromise, adjust to others, and show preference to what they need. (Rm 12:10) A paraphrase of Jesus' seventh beatitude says, "You're blessed when you can show people how to cooperate instead of compete or fight. That's when you discover who you really are, and your place in God's family." (Mt 5:9)
7. Emphasize reconciliation, not resolution.
It is unrealistic to expect everyone to agree about everything. Reconciliation focuses on the relationship, while resolution focuses on the problem. When we focus on reconciliation, the problem loses significance and often becomes irrelevant.
We can reestablish a relationship even when we are unable to resolve our differences. Christians often have legitimate, honest disagreements and differing opinions, but we can disagree without being disagreeable. The same diamond looks different from different angles. God expects unity, not uniformity, and we can walk arm-in-arm without seeing eye-to-eye on every issue.
This doesn't mean you give up on finding a solution. You may need to continue discussing and even debating - but you do it in a spirit of harmony. Reconciliation means you bury the hatchet, not necessarily the issue.
Who do you need to contact as a result of this reading? With whom do you need to restore fellowship? Don't delay another second. Pause right now and talk to God about that person. Then pick up the phone and begin the process. These seven steps are simple but they are not easy. It takes a lot of effort to restore a relationship. That's why Peter urged, "Work hard at living in peace with others." (1Pt 3:11) But when you work for peace, you are doing what God would do. That's why God calls peacemakers his children.
Excerpt taken from: Rick Warren, The Purpose Driven Life (What on Earth Am I Here For?), Zondervan, 2002. pp. 152ff
---
October, 2004.
ESTES PARK, COLORADO -
YOUTH WEEK -
AUGUST 15-22, 2004.
Help Wanted

By Brigitte Biro
My palms were sweating, my heart was racing. People were watching me closely to analyze my every move. My team was depending on me and I felt the pressure to live up to expectations. Beads of perspiration formed on my forehead as I stepped up to the net. No, I wasn't in the Olympics. The game I was referring to is the intense volleyball competition our team took part in last week in Colorado. Volleyball, actually, was just one of the many games we played to see which team would prove victorious. The whole week was full of fun and excitement, fellowship and energy as we embarked on adventures and took time to reflect and grow.
My only problem was that at this particular moment I was standing in front of this volleyball net watching anxiously as the other team served the ball. You see, sports, particularly ones that require hand-eye coordination, aren't really my strong point. And yet, here I stood hoping desperately that I could make my team proud. Most unfortunately, it just wasn't my day and although my team won the game it wasn't because of anything I did. I hadn't even managed to successfully hit the ball once throughout the whole game.
To most people this wouldn't be a big deal. But for me it was devastating. I wasn't devastated because my dreams to be an Olympic volleyball player were shattered in one fifteen minute game. Rather it was because I felt I had let my team down; I wasn't good enough. I discovered something about myself this past week. I realized that my biggest fear was being a disappointment. I fear disappointing my family, my friends, and God. This realization explained a lot. It explained why I burst into tears as soon as the game ended. It explained why I hid in my room writing out my frustrations.
And it was in the middle of this pity party that my cousin and friend walked into the room. My cousin, ever so sensitive to people's needs, saw that I was upset. Through my blubbering tears I told her how horrible I felt. Yet within a few minutes my friends were able to encourage me and uplift my spirits.
The theme throughout the whole week was about how we are all in the army of God. And as children of God in His army, we are called not only to fight but also to encourage each other. This principal of encouragement was one I saw put into practice throughout the week. It was evident in the cheers for the people who stood on the edge of a cliff with nervous looks on their faces as they prepared to climb down the side. I personally felt encouragement by my two friends in their determination to make me laugh. In fellowship, in simply spending time with one another, we were able to assure each other that we would stand by each other. Encouragement was also seen in the long quiet walks where two people were lost in conversation and in the heads bowed together in fervent prayer.
So often, I think we here sermons on encouragement without ever really taking them seriously. But this past week, in my time of need, I had friends who were there for me. And for that I'm so thankful. Christ never meant for us to walk this life alone. He gave us the gift of fellowship with Him and fellowship with each other. It is in the times that we get together with other believers that we become refreshed and equipped to persevere. I have seen this principal proven true in my own life. Why just the very next day I managed to hit the ball twice in volleyball! I know I owe a lot of it to my two friends who stood by me in my time of weakness. And so, I want to implore everyone to reach out to those in need. There is power in a kind word, in a helping hand. It is in those moments when we personally help strengthen the army of God.
---
"Even the Church was Good"

Rebecca Demeter, Chicago, IL
My mom was talking to some of the girls at the Colorado camp and asking how they liked it. One of the girls thought for a minute and said "Well, even the church was good." And I agree with her. I really enjoyed the services and the activities were a lot of fun. My favorite activity was the white water rafting. It was awesone, and I really loved it because I've never done it before.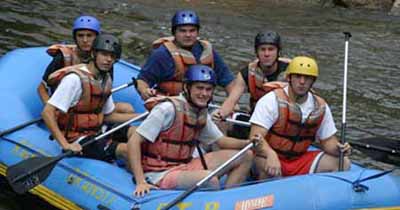 But something that had happened on the trip got me to thinking. There were 8 people per boat, our group, and 1 person, the guide, sat in the back. Whenever he said anything, you were sure that we listened and that we followed his every command because if we didn't, well, our boat might have turned over or someone could have gotten hurt. But because we listened, it made the trip all the more enjoyable. Even as our group listened to the guide, we, as Christians should listen to our Guide, we will go through life, maybe turning over a couple times, as well as we can with our Guide, Jesus Christ, Savior of the world.
---
" I will rejoice for he has made me glad..."

Erica Szegedi , Toronto
During my week at Colorado, I came the realization (tough this wasn't the first time) of how truly happy I was knowing that I was God's child and that my life was in his hands. This makes me want to praise him for eternity. In fact, he deserves my praise. He has been so good to me throughout my life. No matter what I was going through he would always be there for me. No matter how much I would fall he would pull me up every time. I don't even deserve his mercy, but time after time he gives it to me. I am forever grateful that I could be his child and for the fact that he has saved me from this world. He has given me such happiness and peace in my heart that I could never get anywhere else. I pray that everybody here would be able to fiind this great happiness and be at peace with God, for he truly is great. I urge you to turn to him with all your troubles and even with your joys. He will always be there and he will always listen, which sometimes is all you really need.
" I trust your love, and I feel like celebrating because you rescued me. You have been good to me, Lord, and I will sing about you. " Psalms 13: 5-6
---
Gym Shoes & Bible

Kornel Gerstner, Chicago
I'm not a morning person. It is always hard for me to get up early, especially, when everything is quiet, dark, and it's raining. I was one of the persons who set up the daily schedule for camp, so I knew what was coming. But being flexible is always very important. One day someone came to me and shared with me about a very exciting new morning activity: "Gym Shoes & Bible." First, when I heard about it, I was eager to introduce it to the whole camp. I even promised that I would be part of it. The only challenging issue was that I had to get up at 5:45 AM. But it turned out to be an amazing experience.
Zsolt Muller was leading the "Gym Shoes & Bible" morning exercises. First, he made sure that all of us were ready for this. We started with warm-up from our ears all the way down to our toes, getting all of our body parts ready. There were exercises when I knew that if I went one step further, I would be making some funny noises. They were challenging for me especially, because I have not been working out at all. After a half hour of stretching and working our mussels, we had devotions about holiness.
Today, we don't take holiness seriously. We are "set apart" for God's purposes, yet the question is whether or not others can see it in us through our daily talk and "walk". This message has touched me to reevaluate my life. After the devotional time, we prayed and ran for 15 more minutes.
The running was a "piece of cake," because I was warmed-up and ready for it. These one-hour sessions challenged me not only physically, but spiritually as well. We cannot be ready for any kind of "battle", if we don't exercise. It takes discipline, time and effort to work our "spiritual mussels." I have also learned that it's easier to do it with others. They can encourage and help us, so all of us can give our best.
Thank you so much for allowing us to have this week in God's beautiful creation. My prayer is that this "milestone" would help all of us remember that we are here on earth for a reason and God wants to use us for His glory.
---
FANTASTIC WEEK


Lidia Kovac, Melbourne, Australia

G= Day!

What a week we= ve had! Praise God!

The three of us have come all the way from Australia - Jacqueline Schwarcz, my sister Ibi and myself, have traveled halfway across the world to make it to the Rocky Mountains, Colorado, where we experienced a fantastic week filled with memories that will last a lifetime.

We have met many wonderful people from all part of the States and have experienced a whole new culture. I was overwhelmed seeing Hungarians worship in a new way B you= re dedication and commitment to Christ is evident everyday. I love seeing passionate people lay down their lives daily for the cause of the Kingdom.

I am SO delighted to have taken part in such fantastic week. Thank you to everyone for welcoming us so warmly. Thank you to the organizers for going the extra mile to make sure we were comfortable. Thank you to the young people for your friendship and many many hugs. You are all awesomely beautiful and I am privileged to have met you.

Please come and see Australia B you are all very welcome!

Blessings to everyone,
Read more on Colorado in Hungarian and see many pictures here.
---
August - September 2004
Hungarian Baptist Convention of North America

97th ANNUAL CONVENTION - JULY 23-25.

The Hungarian Baptist Convention

Our Hungarian Baptist Convention of North America held its 97th meeting on July 23, 2004 in the city of Cleveland, Ohio. Can you imagine that we have been doing that for 97 years? As always, it was a blessed event even after 97 years. It was a time for a faithful group of people to get together to worship our Lord and to tend to our missions programs. Our get together was the gathering of old and newer members from all states in our country and from all of our existing churches who now belong to our Convention. We had close to 275 people in attendance. Our theme was "Together on the road to Service". This theme topic included young people as well as folks from our Ladies Society and Mens group. Each groups had an interesting story of their work for the Lord. It was very interesting to note the progress made by our Young people. They indicated progress by attending Bible oriented affairs at our Camp in Rama and in Colorado at a YMCA there. These affairs were helped by our Youth Leaders Kornel Gerstner and the Rev. Laszlo Dan. It was good to see the number of our Young people who took part in these Bible oriented affairs. Our Convention has a healthy future if our young people continue to take an active part in our organization. Our Pastors also took an active part in their presentations on the theme of our Convention. Their topics revolved around being together on the road in Christ's service. They too presented ways that we can use to stay together on our road in Christian Service. All of our programs were interesting and geared to help us in our endeavors to work together for the Lord wherever our daily tasks take us.

I feel that the members of our hosting church, The Bethany Hungarian Baptist Church of Cleveland, Ohio deserve a solid thank you for the work they did in hosting this Convention. There was much to be done before, during and after the Convention which depended upon sincere efforts on their part. The meals that they served was typically Hungarian. They were rich, good and plentiful. Their place of worship was in good repair and order. They deserve our grateful thanks.

I personally have attended these yearly meeting for a long time. I attended my first meeting in 1927 in the city of Bridgeport, Conn. as a child sitting with my mother. It was a joy then and it was a joy now. May God continue the missionary spirit of our long standing programs for many more years to come. Our membership may not be as large as it was many years ago, but our aim to worship the Lords is still strong and it is our prayer that we will continue our worship together for many more years to come.

Read about the Convention in Hungarian and see more pictures of the event. Click here.

---

EVER THANKFUL


By Gabriella Kamilla Furedi

| | |
| --- | --- |
| | I am thankful for so many things. More than anything, I am thankful that I am a child of God and my Heavenly Father graciously provides me with enough to have a Godly life. I am thankful that Jesus died for me and I have life everlasting. However, I am also thankful that an airbag protected me from a premature departure from this present life last year |

.

I am blessed that I have good health, I can walk and don't need crutches and even though I wear glasses my eyes are good enough to enjoy the colorful flowers at springtime and to read the Bible. I can sing and praise God and can have daily fellowship with my Saviour, the Bread of Life. I am also thankful for the daily bread I can eat without limit, since I am working in a bakery. I am thankful running water is included in my rent (at least the cold water) so I can have a bath whenever I want. However, I am much more thankful for the blood of Christ that washes away all my sins again and again, without any charge.

This past July 4th the pastor of the Baptist Church next door to my apartment asked us why we were thankful. On that particular Sunday of the National Holiday of Independence I answered with a sincere heart: "I am thankful that I am an American citizen". I got the citizenship recently. Some of those who were born in the US may take their citizenship granted but I waited for it for seven years. I am very thankful that after a long journey I have arrived, my status is not uncertain anymore, I am not a stranger; I am not a foreigner even if I always have an accent (actually I speak a special dialect of English, called Hunglish).

I am thankful

I can belong to a great nation that gave so much noble ideas to the world about freedom and democracy and pray that practice would follow the good theory everywhere. I am thankful for the freedom to worship and I pray God's Kingdom come, God's will be done especially in this part of the world, as well as the Lord would send the long desired revival to America and spread it out to the whole world. I am thankful that with the US citizenship I can make plans again to continue the mission work.

What brought me to the US?

I believe, God, because "He determined the times set for them and the exact places where they should live" (Acts 17:26). I never thought to settle down in Cleveland. As one of the few Hungarian missionaries I lived for eight years in Africa, I wanted to stay there until I grew old but that didn't happened. Because of the cruel civil war in the country where I served I had to leave the mission field and return to Hungary. Once back in my homeland it seemed every door had closed to me.

I was very sad and became more and more hopeless. I felt like Jeremiah at the time of the fall of Jerusalem, reading his story as if God comforted me with the same words that were said to him: "See, the whole word is before you, wherever it seems good and convenient for you to go, go there..." (Jer.40:4), just don't sit here like a "hut in a field of melons"(Is. 1:8). Some friends invited me to come to Cleveland, I prayed, read the Bible, asked for a sign and left my country with the assurance that it was God's will to do so. I expected to find a way soon to go back to the mission.

I was full of new hope when I arrived to Hopkins, but as the time went on most of my expectations failed me. Nothing happened as I planned. At first I felt like I was in a dark tunnel with no possible way of turning back. However, I was sure that some light must be at the other end so I kept on going forward, little by little, day by day.

Do not give up...

I know, many other people experienced the same thing; for ex. the millions of impoverished peasants from Hungary and from other parts of Europe who two hundred years ago left their country because ambitious entrepreneurs invited them to Ohio to work. Only a very few of them got what they dreamed of, most of them found themselves working daily twelve hours or more in dangerous mines or at the road constructions. The life of those emancipated slaves who settled down in Cleveland was not easier, either. They left the south hoping to get better jobs in the north and became entrapped in other kind of slavery doing dirty jobs that nobody wanted to do. The same happened with the Slovakian, the Rumanians, the Russians, the Jews, and the others who escaped from totalitarian regimes. Some of them started as peddlers, petty traders, and if they were lucky later became shop keepers and at two o'clock at night fell asleep at their desk doing the bookkeeping themselves after the busy shopping hours.

What was their driving force? If they were believers, like me, the knowledge that their names were written on His hand...that He ever lives above, for them to intercede...that nothing and nobody can separate them from the love of God. Maybe they read encouraging Bible verses like 2 Chron 15:7 "As for you, be strong and do not give up, for your work will be rewarded."

Also, many times they got new strength just looking at their children knowing that their life would be different. Unfortunately the second and the third generation forget easily that if their parents or grandparents had not gone through on the difficult experiences of immigration they would not be here...When a fresh immigrant wants to say something they look at him that what that bubbling wants to say and forget: "love the aliens for you yourselves were aliens..."(Deut. 10:19).

For me, the good thing was that as a believer I always found brothers and sisters who were willing to listen. I was greatly blessed by new, God fearing friends and most of all by the members of the small prayer group that met every week in my home. Here and there God surprised me with His every-day miracles just as if He were telling me, don't worry, I am here, I am with you and there is great light in the end of the tunnel.

Never too late

The worst thing was the constant uncertainty, the kind of being between, not quite Hungarian but not American yet. Even on the last day when I was supposed to get the certificate of naturalization I had a strange experience. About eighty people were invited to make the oath of allegiance and before that we were called one by one to sign our certificate. I listened carefully but didn't hear my name. There was a Gabriella (that is my official first name) but not Kamilla. There was a Kamilla but not Gabriella; and none of them was Furedi. My name was read last. You can imagine how happy I was as I jumped up and run to the table to sign my name. Just this once, I didn't care that I was the last...Actually when the judge came and after the oath he started to give us the certificate I was the first because my certificate was in the top of the others.

Most of us are citizens of the U.S. as well as God's Kingdom, but do we take it for granted just because Jesus suffered and paid the price for it? Does our daily life show that we are thankful to Him? If you are not sure of your citizenship in heaven, find a Bible and reading John 3:16 just put your name there instead of whosoever. Then say with a sincere heart: "Yes, I believe, that God gave his only Son for me, yes I believe He died exactly for my sins, He loved me sooo much..." Maybe it is the last call for you, but it is never too late. Sometimes the last can be the first.

---

IRAQ ---- DID YOU KNOW?

1. The garden of Eden was in Iraq.

2. Mesopotamia which is now Iraq was the cradle of civilization!

3. Noah built the ark in Iraq.

4. The Tower of Babel was in Iraq.

5. Abraham was from Ur, which is in Southern Iraq!

6. Isaac's wife Rebekah is from Nahor which is in Iraq.

7. Jacob met Rachel in Iraq.

8. Jonah preached in Nineveh - which is in Iraq.

9. Assyria which is in Iraq conquered the ten tribes of Israel.

10. Amos cried out in Iraq!

11. Babylon which is in Iraq destroyed Jerusalem.

12. Daniel was in the lion's den in Iraq!

13. Shadrach, Meshach and Abednego were in the fire in Iraq.

14. Belshazzar, the King of Babylon saw the "writing on the wall" in Iraq.

15. Nebuchadnezzar, King of Babylon, carried the Jews captive into Iraq.

16. Ezekiel preached in Iraq.

17. The wise men were from Iraq.

18. Peter preached in Iraq.

19. The "Empire of Man" described in Revelation is called Babylon which was a city in Iraq!

20. Israel is the nation most often mentioned in the Bible. But do you know which nation is second? It is Iraq! However, that is not the name that is used in the Bible. The names used in the Bible are Babylon, Land of Shinar, and Mesopotamia. The word Mesopotamia means between the two rivers, more exactly between the Tigris and Euphrates Rivers. The name Iraq, means country with deep roots. Indeed Iraq is a country with deep roots and is a very significant country in the Bible.

(nn)

Hungarian Baptist Convention of North America
97th ANNUAL CONVENTION - JULY 23-25.
Hungarian Bethany Baptist Church, CLEVELAND
4124 Stickney Ave., Cleveland, OH.
Theme: SERVING TOGETHER
105 years of service in Cleveland
We cordially invite you to the 97th ANNUAL CONVENTION of the HUNGARIAN BAPTIST CONVENTION OF NORTH AMERICA.
Please join us if you relate in any way to our convention. Officers of the convention, members of our churches, members at large or readers of the Gospel Messenger are expected to come and sit in the meetings and also worship with us as we want to make even our meetings a kind of worship service to express our unity with each other and with the Lord Jesus Christ.
This year we hold our convention meetings in the city where the Hungarian Baptist mission started, 105 years ago. Come and celebrate with us!
Date: July 23-25.
Location: 4124 Stickney Ave., Cleveland, OH. - Hungarian Bethany Baptist Church, Phone: (216)398-8873
Please write an e-mail to register your intention to come at
hungarianbaptist@aol.com
or call Rev. Zoltán Pinter at (216)470-2180 or Andras Csompo at (216)447-1611
The congregation intends to accommodate everyone, but if you want to find a good hotel/motel in the area, call these places (within 3 miles of the Church)
Hampton Inn (216)929-8400 or 800-hampton ($80/night)
Extended Stay America (216)267-7799 or 800-ext-stay ($60/night)
Excerpt from the program:
Friday
3:00 to 6:00 PM Committee meetings
6:00 PM Supper
7:00PM Worship service, opening of the 97th Convention
(Organized by the Women's Convention)
Saturday 9AM to 1PM
Official meetings of the Convention
Saturday afternoon (3-5PM): Women's, Men's and Youth Convention
7:00 PM Worship service
Organized by the Youth Conv.
105 years of service in Cleveland
Sunday
10:00AM Worship service,
Lord's supper; closing of the Convention
1:00PM Lunch
Great fellowship, spirit filled teachings by our pastors and visitors, poems, testimonials and a lot of singing.
---
PRESIDENT REGEN'S FAVORITE HYMN HEARD AROUND THE WORLD
By Klári Vereczky Mális
When John Newton composed "Amazing Grace" more than three centuries ago, he could not have surmised that this devotional would become what is probably the favorite hymn of Christians everywhere.

"Amazing Grace" was also a favorite of the late President Ronald Reagan, who requested that the hymn be sung as his testimony when the world was honoring his memory at the National Cathedral in Washington, D.C., and the Ronald Reagan Presidential Library in Simi Valley.

Newton could not have foreseen the miracles our modern age has achieved, with the television media broadcasting the memorial service of our beloved President's farewell message and "Amazing Grace" to the entire planet. These words were even carried into outer space, borne on the shoulders of today's awesome satellites!

Composer John Newton's mother died when he was 7 years old. At age 11, with only two years of schooling and a rudimentary knowledge of Latin, John went to sea with his father. Godless and abandoned, he eventually became a slave trader commanding a slave ship for six years.

Newton had been flogged as a navy deserter during the wild days of his youth. For nearly two years, he had been half starved and ill treated, and also labored as an African slave.

A chance reading of Thomas á Kempis sowed the seed of Newton's conversion to Christianity. When he was 23 years old, his faith in God deepened after a terrifying night steering a waterlogged slave ship in the face of apparent death.

It may have been this experience which caused Newton to write: "Through many dangers, toils and snares, I have already come; 'Tis grace hath brought me safe thus far, And grace will lead me home."

After his conversion, Newton spent nine years studying Hebrew and Greek in Liverpool, England. He became acquainted with other devout Christians such as Whitefield, John Wesley and William Cowper, who produced "Olney Hymns." Eventually ordained a minister, Newton became curate at Olney, Buckinghamshire, in 1764.

A Londoner, Newton was born in 1725 and died in 1807. He was buried at St. Mary Woolnoth Church in London. In 1893, he and his wife Mary were re-interred at St. Peter and St. Paul's Church in Olney. A marble plaque carries the epitaph which he himself wrote:

"John Newton, Clerk

Once an infidel and libertine,

A servant of slaves in Africa,

Was, by the rich mercy of our Lord and Saviour

Jesus Christ,

Restored, pardoned, and appointed to preach the Gospel which he had long laboured to destroy.

He ministered nearly 16 years in Olney, in Bucks, and 28 years in this church."

AMAZING GRACE

Amazing grace! How sweet the sound

That saved a wretch like me!

I once was lost, but now am found;

Was blind, but now I see.

'Twas grace that taught my heart to fear,

And grace my fears relieved;

How precious did that grace appear

The hour I first believed.

Through many dangers, toils and snares,

I have already come;

'Tis grace hath brought me safe thus far,

And grace will lead me home.

The Lord has promised good to me,

His Word my hope secures;

He will my Shield and Portion be,

As long as life endures

Yea, when this flesh and heart shall fail,

And mortal life shall cease,

I shall possess, within the veil,

A life of joy and peace.

The earth shall soon dissolve like snow,

The sun forbear to shine;

But God, Who called me here below,

Shall be forever mine.

When we've been there ten thousand years,

Bright shining as the sun,

We've no less days to sing God's praise

Than when we'd first begun.

---

BAPTISM: IDENTIFYING WITH GOD'S FAMILY
(the best of Rick Warren)

Healthy families have family pride; members are not ashamed to be recognized as a part of the family. Sadly, I have met many believers who have never publicly identified themselves with their spiritual family as Jesus commanded -- by being baptized.

Baptism is not an optional ritual, to be delayed or postponed. It signifies your inclusion in God's family. It publicly announces to the world, "I am not ashamed to be a part of God's family." Have you been baptized? Jesus commanded this beautiful act for all in his family. He told us to "go and make disciples of all the nations, baptizing them in the name of the Father and the Son and the Holy Spirit." (Mt 28:19)

For years I wondered why Jesus' Great Commission gives the same prominence to baptism as it does to the great tasks of evangelism and edification. Why is baptism so important? Then I realized it is because it symbolizes God's second purpose for your life: participating in the fellowship of God's eternal family.

Baptism is pregnant with meaning. Your baptism declares your faith, shares Christ's burial and resurrection, symbolizes your death to your old life, and announces your new life in Christ. It is also a celebration of your inclusion in God's family.

Your baptism is a physical picture of a spiritual truth. It represents what happened the moment God brought you into his family: "Some of us are Jews, some are Gentiles, some are slaves, and some are free. But we have all been baptized into Christ's body by one Spirit, and we have all received the same Spirit." (1Kor 12:13)

Baptism doesn't make you a member of God's family; only faith in Christ does that. Baptism shows you are part of God's family.

Like a wedding ring, it is a visible reminder of an inward commitment made in your heart. It is an act of initiation, not something you put off until you are spiritually mature. The only biblical condition is that you believe.

In the New Testament, people were baptized as soon as they believed. At Pentecost, 3,000 were baptized the same day they accepted Christ. Elsewhere, an Ethiopian leader was baptized on the spot when he was converted, and Paul and Silas baptized a Philippian jailer and his family at midnight. There are no delayed baptisms in the New Testament. If you haven't been baptized as an expression of your faith in Christ, do so as soon as possible, as Jesus commanded.

LIFE'S GREATEST PRIVILEGE

The Bible says, "Jesus and the people he makes holy all belong to the same family. That is why he isn't ashamed to call them his brothers and sisters." (Zsid 2:11) Let that amazing truth sink in. You are a part of God's family, and because Jesus makes you holy, God is proud of you! The words of Jesus are unmistakable: "[Jesus] pointed to his disciples and said, 'These are my mother and brothers. Anyone who does the will of my Father in heaven is my brother and sister and mother!" (Mt 12:49) Being included in God's family is the highest honor and the greatest privilege you will ever receive. Nothing else comes close. Whenever you feel unimportant, unloved, or insecure, remember to whom you belong.

Being included in God's family is the highest honor and the greatest privilege you will ever receive.

Excerpt taken from Rick Warren, The Purpose Driven Life (What on Earth Am I here for?) Zondervan, 2002. pp. 120f.
JUNE 2004

The Bethesda Baptist Church in Palm Bay, Florida is still in existence and operating as an active organization within The Hungarian Baptist Convention. We are still an active part of our Baptist organization here in Florida. We know that with the sale of our retirement complex, new management has taken over that complex and it may seem that our church may have been absorbed with the operation of the Home. This is a faulty thought. Our church is a completely separate organization and operates completely independent of the Home itself. We have a written document indicating our independent status as a Baptist church. This will be renewable every five years. Thus we operate independently from the Home itself.

We have our own officers and our own treasury. The Reverend Denzel Alexander is our pastor and serves our church as well as the residents of the Home. It is our hope to do likewise in the foreseeable future.

During the past winter season, we had the opportunity to host quite a few of our old time Hungarian friends as they visited beautiful areas of Florida. We hosted the Rev. Laszlo Dan and family from Toronto, also the Halo's from New York City, Kalman Dobos from Hungary, the Rev. & Mrs. George Rowe, Rose & Elmer Kish, Margit & Istvan Palotai and LaDonna Kovacs and quite a few others. Thus you can see that we still have quite a number of friends who feel close to us even though we do not have the retirement home. I want to indicate to you that you are very welcome to our church whenever you come to Florida.

Because we have quite a few residents from the Home in attendance during our services, unfortunately all services are in the English language. However, we do have a Hungarian Sunday School class. We still have many knowledgeable Hungarian speaking people with whome you may be able to converse. You will therefore be made most welcome. We are proud of our background but in order to reach others for Christ we must cater to those people who are in attendance. So don't hesitate to visit us in sunny Florida - you will be made most welcome.

Ernest J. Kish

---

---

IT'S ALL IN THE CHURCH

God created the church to meet your five deepest needs: a purpose to live for, people to live with, principles to live by, a profession to live out, and power to live on. There is no other place on earth where you can find all five of these benefits in one place.

God's purposes for his church are identical to his five purposes for you. Worship helps you focus on God; fellowship helps you face life's problems discipleship helps fortify your faith; ministry helps find your talents; evangelism helps fulfill your mission. There is nothing else on earth like the church!

YOUR CHOICE

Whenever a child is born, he or she automatically becomes a part of the universal family of human beings. But that child also needs to become a member of a specific family to receive nurture and care and grow up healthy and strong. The same is true spiritually. When you were born again, you automatically became a part of God's universal family, but you also need to become a member of a local expression of God's family.

The difference between being a church attender and a church member is commitment. Attenders are spectators from the sidelines; members get involved in the ministry. Attenders are consumers; members are contributors. Attenders want the benefits of a church without sharing the responsibility. They are like couples who want to live together without committing to a marriage.

Why is it important to join a local church family? Because it proves you are committed to your spiritual brothers and sisters in reality, not just in theory. God wants you to love real people, not ideal people. You can spend a lifetime searching for the perfect church, but you will never find it. You are called to love imperfect sinners, just as God does.

In Acts, the Christians in Jerusalem were very specific in their commitment to each other. They were devoted to fellowship. The Bible says, "They committed themselves to the teaching of the apostles, the life together, the common meal, and the prayers." (Acts 2:42) God expects you to commit to the same things today.

The Christian life is more than just commitment to Christ; it includes a commitment to other Christians. The Christians in Macedonia understood this. Paul said, "First they gave themselves to the Lord; and then, by God's will, they gave themselves to us as well." (2Cor 8:5) Joining the membership of a local church is the natural next step once you've become a child of God. You become a Christian by committing yourself to Christ, but you become a church member by committing yourself to a specific group of believers. The first decision brings salvation; the second brings fellowship.

Rick Warren, The Purpose Driven Life (What on Earth Am I Here For?), Zondervan, 2002. pp. 136f.

MAY 2004

When God Made Moms

By the time the Lord made mothers, he was into his sixth day of working overtime. An Angel appeared and said "Why are you spending so much time on this one"? And the Lord answered and said, "Have you seen the spec sheet on her? She has to be completely washable, but not plastic; have 200 movable parts, all replaceable; run on black coffee and leftovers; have a lap that can hold three children at one time and that disappears when she stands up; have a kiss that can cure anything from a scraped knee to a broken heart, and have six pairs of hands."

The Angel was astounded at the requirements for this one. "Six pairs of hands! No Way!" said the Angel. The Lord replied, "Oh, it's not the hands that are the problem. It's the three pairs of eyes that mothers must have!"

"And that's just on the standard model?" The Angel asked.

The Lord nodded in agreement, "Yes, one pair of eyes are to see through the closed door as she asks her children what they are doing even though she already knows. Another pair in the back of her head, are to see what she needs to know even though no one thinks she can. And the third pair are here in the front of her head. They are for looking at an errant child and saying that she understands and loves him or her without even saying a single word."

The Angel tried to stop the Lord. "This is too much work for one day. Wait until tomorrow to finish." "But I can't!" the Lord protested, "I am so close to finishing this creation that is so close to my own heart. She already heals herself when she is sick AND can feed a family of six on a pound of hamburger and can get a nine year old to stand in the shower."

The Angel moved closer and touched the woman, "But you have made her so soft, Lord."

"Yes, she is soft", the Lord agreed, "But I have also made her tough.

You have no idea what she can endure or accomplish."

"Will she be able to think?", asked the inquisitive Angel.

The Lord smiled and replied, "Not only will she be able to think, she will be able to reason, and negotiate."

The Angel then noticed something and reached out and touched the woman's cheek. "Oops, it looks like you have a leak with this model. I told you that you were trying to put too much into this one."

"That's not a leak." The Lord objected. "That is a tear!"

"What's the tear for? the Angel asked. The Lord said, "The tear is her way of expressing her joy, her sorrow, her disappointment, her pain, her loneliness, her grief, and her pride."

The Angel was impressed. "You are a genius, Lord. You thought of everything! Truly, You do all things well... Moms are truly amazing!"

Happy Mother's Day!
(Author unknown)
---
PENTECOST

The outpouring of the Holy Spirit

Pentecost, a Greek word meaning
"fiftieth day," was from Biblical times a celebration of first fruits of the harvest and the giving of the Law to Moses on Mt. Sinai. Fifty days after Easter, Christians celebrate Pentecost as the completion of Christ's earthly mission and the public revelation of the Holy Spirit.

Jesus told the disciples that the Paraclete (meaning

'Advocate" or "one called to stand next to") would come to instruct and remind them of all he said (John 14:26). The Holy Spirit helped the disciples understand the mystery of the Redemption.

On the first Pentecost, the Holy Spirit inspired the disciples to continue the mission of Jesus. As they were strengthened to proclaim the gospel boldly, so the Holy Spirit enabled those who heard to understand, despite the differences in language (Acts 2:5-12).

The Holy Spirit was poured out upon the Church in the first Pentacost just as it was for each of us in baptism. The Spirit continues to empower us not only to believe, but to act as disciples.

We need more than human virtue and intelligence to live as disciples. The Holy Spirit provides gifts. These gifts enables us to strengthen the Body of Christ, the Church, and influence the world by the way we live.

The greatest gift is love itself, and along with it, we are given the insight to recognize that God is the source of all love.
---
HYMN AND PRAYER TO THE SPIRIT
Come, Holy Ghost, God and Lord,

With all your graces now outpoured

On each believer's mind and heart;

Your fervent love to us impart.

Lord, by the brightness of your light

In holy faith your Church unite;

From ev'ry land and ev'ry tongue

This to your praise, 0 Lord, our God, be sung:

Alleluia.

Come, holy Light, guide divine,

Now cause the Word of life to shine.

Teach us to know our God aright

And call him Father with delight.

From ev'ry error keep us free;

Let none but Christ our master be

That we in living faith abide,

In him, our Lord, with all our might confide.

Alleluia.

Martin Luther, 16th century

April 2004.
Silliman Baptist has international flavor

In the last 93 years, Silliman Baptist Church in Bridgeport has moved forward in many respects. At the same time, it's come full circle in one major way.

The church was founded to serve immigrants from Hungary and today it serves a congregation made up in large part by new immigrants from 13 countries.

The church's pastor, the Rev. Joseph Delahunt, said that the church grew out of the First Baptist Church in Bridgeport. After the Hungarian immigrants gathered in home meetings, the First Baptist pastor at that time supported and encouraged them to start their own congregation.

In 1911 the Hungarians constructed a church in the city's West End, where they had settled. Today the original building is being used as the church's office building.

In 1915 the congregation built the main church building that faces Fairfield Avenue.

The church got its name from a key donor. Ezra Silliman was a deacon at First Baptist and donated a whole block of land to the
organization named the American Baptist Churches of Connecticut. The group and Silliman's widow agreed the new church would be an appropriate use of the land.

"They held services in Hungarian until 1954." said Delahunt. "Then they made one of the biggest transitions in the history of the church."

Services were changed to Hungarian-English, then to all English shortly after.

The l960s brought another big transition. "The second major shift they made was when they had to move beyond their national and ethnic boundaries and reach out to the neighborhood," said Delahunt.

"The church has adapted to its new urban setting," he said, pointing out that half of today's congregation comes from countries such as Jamaica, Haiti, Cameroon, Nigeria, Liberia, Kenya, and India.

The rest are Caucasians, some from the old Hungarian families, African Americans, and Hispanics.

Violet Berglund went through each stage. "I've been in the church since I was conceived," she said. The family's history goes back to Berglund's grandmother. All of her 10 children attended Silliman Memorial.

"It's a very harmonious church," Bergiund said. "We all work together. We all have a strong faith in

the Lord.." She firmly believes that "the Lord has a purpose for the church."

Nelson Ngoh was drawn to the church because "it has the same style of worship we have in Baptist churches in Cameroon," he said.

Ngoh also finds a concern for one another. "Everyone was there for me when my wife was ill and passed away" he said. Ngoh said the church's Wednesday night prayer meeting was moved to his house during his wife's illness. "The pastor visited every day in my house and in the hospital," he said.

Today's programs reach out to members and the community at large. "We're big supporters of the Bridgeport Rescue Mission," said Delahunt. The missions last two graduations were held at Silliman Memorial, and the church leads worship services at the mission regularly.

"And we collaborate with Young Life, a new ministry in Bridgeport," he added. "They basically want to share with kids that God has a plan and a future for them. My wife LaRee many years ago came to the Christian faith through that [national] ministry."

Another important way the church reaches youngsters is through the Angel Tree at Christmas.

The church collects and wraps presents "for kids whose parents are incarcerated so they can have a Christmas," said Delahunt.

This project is done in collaboration with Progressive Training in Bridgeport that works with Prison Fellowship.

Until recently, the church was also involved with Project Learn, but left without grant funding and a director, the program is dormant. strn, the pastor is "hoping to get it going."

There's "no separation of faith and life," the pastor said, explaining the reasons for such programs as Project Learn and working with Bridgeport Rescue Mission to "help people who are trying to get their lives together."

Marie Leclerc, a 12-year member of the church, is involved with the outreach committee and "goes to Marina Village with the Rescue Mission to serve meals and minister to the people," she said.

For Leclerc, one of the best things about Silliman Memorial "is the family atmosphere," she said. "Its very caring. You feel welcome."

With such a diverse congregation, the church is launching a series of international nights. The first one will be an Indian night today at 5:30 p.m. People from India will share their food, culture, and worship music with those attending.

The same will happen on the Jamaica, Haitian, African, and Euro-American nights, among others.

"That's one of the big challenges of a church like this," said the pastor, referring to the diversity of members. "It's a wonderful strength for the church, but it also takes effort to cross cultural values."

Whether it's outreach within the church or to the community everything flows out of the spiritual, he said, since there's "no real dividing line between the spiritual and the social because God wants to transform every aspect of our life."

One such event will March 8, when a sacred music concert will take place. The 35-member Jubilate Choir from the University Baptist Church in Charlottesville, Va., will present a concert of classical, gospel, and folk music.

For a small congregation, there's a lot going on. The Sunday school is for all ages, not just children. A Wednesday night series is currently examining what it means to be a disciple. There's a youth group for teens.

There are three choirs: a traditional youth choir, an adult choir, and a contemporary worship team.

Delahunt is also starting a Sunday Bible study group for young adults. "Lots of times we have a Sunday afternoon teaching series," he adds, "like a New Testament overview."

Future goals include developing community outreach programs that would involve spiritual as well as hands-on help. Currently Slliman has a task force working with all the church committees to find the best way to incorporate all congregants into some form of service.

Connecticut Post, Feb 28, 2004. Joseph Pronechen
---
| | |
| --- | --- |
| Why? | |

That anguished one-word question is being asked by many people after five Southern Baptist aid workers were shot in Iraq March 15.

Larry and Jean Elliott and Karen Watson

died on the spot after automatic weapons fire and rocket-propelled grenade fragments tore into their vehicle. David McDonnall succumbed the next morning as U.S. military surgeons struggled to save him. His wife, Carrie, critically wounded, has been stabilized and is being treated after being flown to a hospital in Germany.

The why question encompasses multiple whys. Why were they attacked? Why were they in the northern city of Mosul? Why did they go to Iraq in the first place? Why were they working there amid obvious dangers?

Why they were attacked

-- and by whom -- remains unknown. But there's no shortage of speculation as investigation of the tragedy gets under way.

Why they were in Mosul

is an easier question to answer. They were looking for ways to assist the people of the city - particularly in producing clean water.

Why did they willingly come to Iraq

in the first place, despite its many and increasing dangers? That's the simplest question of all. But the answers are hard for many of us to comprehend.

American Christians generally accept -- in theory -- that God might ask us one day to risk our lives for Him. For believers accustomed to freedom and comfort, however, the theory is easier to deal with than the reality. Viewers of "The Passion of the Christ" have learned anew what Christ Himself willingly suffered. He calls His followers to be prepared for similar treatment at any time.

"A lot of people were asking them, 'Why would you go?'" recalled George Fox, pastor of the church. The Elliotts said, 'You could die in traffic in Raleigh. It's safer to be in the center of God's will.'

The dangers in this world aren't going away any time soon. But the needs of suffering people for help and hope continue. May the spirit of the Elliotts, the McDonalls and Karen Watson shape our hearts for the challenge.

By Erich Bridges
---
THE STORY OF THE CROSS

To know the story behind the reasons and the implications of Christ's crucifixion, we have to go all the way back to the creation of the world. When God created humankind, He gave us a choice - to either live in a loving and obedient relationship with Him or live by our own rules, serving ourselves.

And people chose to rebel against God. With that, sin entered the world, and with it came death and separation from God. [Romans 5:12-14]

God, though, provided a way to end that separation, a way to defeat death, a way to bring men and women like us back to Him. [Matthew 1:21]

That way is Jesus, God's Son. He came to save His people from their sins and bring them the eternal satisfaction of a personal relationship with God. [John 3:17-18]

The movie gets it right. He gave His life as a sacrifice and endured all the punishment and mockery that man had to offer. [Ephesians 5:2]

But why did He have to die?

Because all of us have sinned [Romans 3:23] , and God's penalty for that sin is death. [Romans 5:8] Christ took the full blow of that penalty during those anguishing hours on the Cross. [Isaiah 53:11] Those whips were meant for our backs. Those nails were intended for our hands. [1 Peter 2:24] But Jesus, in deep love and flawless humility, took our punishment on Himself.

That was how God showed His love. He gave His Son to die ... for us. Then, as Jesus had predicted, He rose from the dead just days later! Death could not hold Him! [Acts 2:24] That was how God showed His power. He conquered sin on the Cross, and He conquered death through His resurrection! [1 Corinthians 15:21]

So what?

What is there for you to do? It's really your choice. Do you want to follow God and enjoy eternal life with Him? [John 1:10-13]

Jesus said that whoever believes in who He is and what He did will have eternal life! [John 3:16-17] Does that sound too easy?

There was nothing easy about Christ's death on the Cross. He did the hard part. All you have to do is believe.

If you do believe, and you want the eternal life that comes from Jesus Christ and washes away the guilt of your sins - if you want to be reunited with God forever, tell Him! Try following this prayer as an outline for your conversation with Him.

God, I saw what my sins did to Your Son, Jesus, on the Cross. I believe that He is Your Son, and I want Him to be my Savior. I want Him to conquer sin and death in my life. In His name I ask You to welcome me back to you. I know that I have followed my own rules and served my own desires. But God, I don

'

t want to serve myself anymore. I want to follow You. I want to spend eternity with You! Thank you for your wonderful gift of Jesus.
Amen.

If you

'

re still not sure... This is an important decision, and it

'

s okay if you still need more time to think about it. Speak to a friend or a pastor you trust or go to a Christian web site like the one this article was taken from:

(2004. March)
SKIING AT PEEK'N PEAK RESORT

First of all, we would like to say thank you so much for allowing each of us to go and to spend a special weekend together. I know it was a great sacrifice in many ways; thank you for your help. I know many people were praying for us, especially that weekend.

Zsolt Kulcsar and Tibi Boda organized this trip. 25 of us, from five different Hungarian churches, had the opportunity to spend a weekend together in New York state, close to the Pennsylvania and New York border - Peek'n Peak resort -, where we not only had a time of fellowship and bible studies, but we could also enjoy the beautiful winter weather as we were skiing and snow-boarding.

It was snowing everyday, so we got fresh snow all the time. God's creation was beautiful. Often we just marveled as we saw the untouched snow on a pine tree. There were times when the snow was almost two feet thick on the bough.

Each day we had one or two devotional time(s), when we studied God's Word, talked about it and prayed. It was great to see and experience His immediate answers for our prayer. On Sunday, we asked everybody what he or she liked the most. The majority of the answers were "we could see each other again."

We could have not done this without your help, so behalf of the Hungarian youth groups, I would like to say again, thank you so much for your generosity and prayer support.

Korry Gerstner (for pictures go to the Ifjúság [Youth] page.)
---
Who Killed Jesus?
- Setting the Record Straight
The cover of the latest Newsweek magazine asks the right question: "Who killed Jesus?" This has been a raging debate for a year, since Mel Gibson started his remarkable film project The Passion of the Christ. He immediately ran into a buzz saw of opposition from the liberal media and Jewish groups who were afraid the film would rekindle anti-Semitism.
Now, Jews have a legitimate concern about this. During the Middle Ages, Christians treated Jews terribly. In Russia there were pogroms against the Jews. And of course some of the maniacs around Hitler professed that they were killing Jews to purify the Christian race.
But is this sensitivity today well-founded? If we would look at history alone, we would have to say that Pontius Pilate certainly was guilty. Legend has it that years after the crucifixion he was frantically washing his hands trying to cleanse himself from the blood of Christ. And, of course, Caiphus the High Priest certainly bears his share of responsibility. So do the crowds who yelled, "Crucify him." So was it the Romans or the Jews, the venality of Pontius Pilate or the passion of the mob?
It was both and neither. The Jews didn't cause the death of Jesus, nor did the Romans. They were merely instruments carrying out what God had decreed. He sent His only begotten Son to die on the cross so that the sins of mankind might be forgiven. And those who take Scripture seriously have always known who killed Jesus: You and I and all other sinful human beings did so.
Mel Gibson understands this. In his movie, The Passion of the Christ, the hand holding the spike being nailed through Christ's wrist is Gibson's. Who killed Jesus? Mel Gibson knows. And he made the very point with his own hand that he was responsible, not the Jews.
Similarly the Dutch painter, Rembrandt painted The Raising of the Cross as a self-portrait. As Christ hangs on the cross while it is being lifted into place, the soldier pulling it up is Rembrandt. Who killed Jesus? Rembrandt knew. He did. And I did. And you did. We're the ones who sent Jesus to the cross loaded down with our sins.
So enough of this foolish controversy. My advice to Christians is that you make it abundantly clear to your friends and neighbors that we are the ones responsible and then take them to see the film. Let them experience the passion and explain to them why it was necessary for Jesus to go to the cross. And be ready with a biblical answer for your Jewish friends who hear all of this propaganda, most of it stirred up by professional activists.
Albert Mohler, president of the Southern Baptist Theological Seminary, says that it is not who is to blame that really has everybody up in arms. The media elite know that if people see this film, the right answer to the haunting question "Who Killed Jesus?" will be clear. What strikes terror into the hearts of the media elite is that people might once again be convicted of sin, repent, and come to faith in Christ.
So, three cheers for Mel Gibson. And thanks to Newsweek for asking the right question, even if it does not have the right answer. But now it is up to us Christians to do our job to educate our neighbors and flood the movie.
Chuck Colson, Prison Fellowship, Break Point Online, Feb. 12, 2004
---
THE PASSION

by Paul Harvey

I really did not know what to expect. I was thrilled to have been invited to a private viewing of Mel Gibson's film "The Passion," but I had also read all the cautious articles and spin. I grew up in a Jewish town and owe much of my own faith journey to the influence. I have a life long, deeply held aversion to anything that might even indirectly encourage any form of anti-Semitic thought, language or actions.
I arrived at the private viewing for "The Passion", held in Washington DC and greeted some familiar faces. The environment was typically Washingtonian, with people greeting you with a smile but seeming to look beyond you, having an agenda beyond the words. The film was very briefly introduced, without fanfare, and then the room darkened. From the gripping opening scene in the Garden of Gethsemane, to the very human and tender portrayal of the earthly ministry of Jesus, through the betrayal, the arrest, the scourging, the way of the cross, the encounter with the thieves, the surrender on the Cross, until the final scene in the empty tomb, this was not simply a movie; it was an encounter, unlike anything I have ever experienced.

In addition to being a masterpiece of film-making and an artistic triumph, "The Passion" evoked more deep reflection, sorrow and

emotional reaction within me than anything since my wedding, my ordination or the birth of my children. Frankly, I will never be the same. When the film concluded, this "invitation only" gathering of "movers and shakers" in Washington, DC were shaking indeed, but this time from sobbing. I am not sure there was a dry eye in the place. The crowd that had been glad-handing before the film was now eerily silent. No one could speak because words were woefully inadequate. We had experienced a kind of art that is a rarity in life, the kind that makes heaven touch earth.

One scene in the film has now been forever etched in my mind. A brutalized, wounded Jesus was soon to fall again under the weight of the cross. His mother had made her way along the Via Della Rosa. As she ran to him, she flashed back to a memory of Jesus as a child, falling in the dirt road outside of their home. Just as she reached to protect him from the fall, she was now reaching to touch his wounded adult face. Jesus looked at her with intensely probing and passionately loving eyes (and at all of us through the screen) and said "Behold I make all things new." These are words taken from the last Book of the New Testament, the Book of Revelation. Suddenly, the purpose of the pain was so clear and the wounds, that earlier in the film had been so difficult to see in His face, His back, indeed all over His body, became intensely beautiful. They had been borne voluntarily for love.

At the end of the film, after we had all had a chance to recover, a question and answer period ensued. The unanimous praise for the film, from a rather diverse crowd, was as astounding as the compliments were effusive. The questions included the one question that seems to follow this film, even though it has not yet even been released. "Why is this film considered by some to be "anti-Semitic?"

Frankly, having now experienced (you do not "view" this film) "the Passion", it is a question that is impossible to answer. A law

professor whom I admire sat in front of me. He raised his hand and responded "After watching this film, I do not understand how anyone can insinuate that it even remotely presents that the Jews killed Jesus. It doesn't." He continued "It made me realize that my sins killed Jesus" I agree.

There is not a scintilla of anti-Semitism to be found anywhere in this powerful film. If there were, I would be among the first to decry it. It faithfully tells the Gospel story in a dramatically beautiful, sensitive and profoundly engaging way.

Those who are alleging otherwise have either not seen the film or have another agenda behind their protestations. This is not a "Christian" film, in the sense that it will appeal only to those who identify themselves as followers of Jesus Christ. It is a deeply human, beautiful story that will deeply touch all men and women. It is a profound work of art. Yes, its producer is a Catholic Christian and thankfully has remained faithful to the Gospel text; if that is no longer acceptable behavior, than we are all in trouble. History demands that we remain faithful to the story and Christians have a right to tell it.

After all, we believe that it is the greatest story ever told and that its message is for all men and women. The greatest right is the right to hear the truth.

We would all be well advised to remember that the Gospel narratives to which "The Passion" is so faithful were written by Jewish men who followed a Jewish Rabbi whose life and teaching have forever changed the history of the world. The problem is not the message but those who have distorted it and used it for hate rather than love. The solution is not to censor the message, but rather to promote the kind of gift of love that is Mel Gibson's filmmaking masterpiece, "The Passion."

It should be seen by as many people as possible. I intend to do everything I can to make sure that is the case. I am passionate about "The Passion." You will be as well. Don't miss it!

(2004. Ferbuary)
EXTREME POWER B XP3
Concert in Alhambra
They were making a joyful noise unto the Lord, the 21 young men and women jumping for joy in a recent concert at the American Hungarian Baptist Church in Alhambra. Filled with an intense desire to bring the Gospel in today's form of song, word and deed, they brought new meaning to reverence in exalting Almighty God. Their arms raised in the praise and worship seen in modern mega churches, these dedicated young Christians were rejoicing and singing about God's goodness and mercy. They were jubilant and happy, but tired after traveling for months as musical missionaries. Affiliated with The Continentals, the group had stopped in Los Angeles before arriving at their headquarters in Ventura, California.
These young dedicated performers, mostly in their late teens or twenties, had financed their own trips (which cost them as much as $5,000) to sing God's praises around America and Africa. They had gone to Nairobi, where God must have been guarding them because none were harmed when their American hotel was bombed by Al-Qaeda terrorists.
As their director András Tornay told about the miraculous escape in the Nairobi hotel, the Alhambra congregation rejoiced with them. András Tornay, a member of Calvary Chapel in Miskolc, Hungary, says he is the only Hungarian leader of one of the four youth groups managed by The Continentals to spend their summer vacations in missionary activities.
When Bro. Joseph Novak was contacted by András Tornay, the pastor gladly offered the Alhambra church's facilities and lodging. Twenty-one dedicated young Christians found friendly fellowship as they were hosted by the members and shown the exciting sights of Los Angeles.

The week's activities closed with an awesome performance of musical praise and worship before they headed toward Santa Barbara County and home. This performance at our congregation will long be remembered by young and old alike, and we ask God to bless these young missionaries with many more years of spreading His message in dynamic music and song.
--By Klári Vereczky Mális
---
Allah or Jesus?

by Rick Mathes

Last month I attended my annual training session that's required for maintaining my state prison security clearance. During the training session there was a presentation by three speakers representing the Roman Catholic, Protestant and Muslim faiths who explained their belief systems. I was particularly interested in what the Islamic Imam had to say.

The Imam gave a great presentation of the basics of Islam, complete with a video. After the presentations, time was provided for questions and answers.

When it was my turn, I directed my question to the Imam and asked: "Please, correct me if I'm wrong, but I understand that most Imams and clerics of Islam have declared a holy jihad [Holy war] against the infidels of the world. And, that by killing an infidel, which is a command to

all Muslims, they are assured of a place in heaven. If that's the case, can you give me the definition of an infidel?"

There was no disagreement with my statements and without hesitation he replied, "Non-believers!"

I responded, "So, let me make sure I have this straight. All followers of Allah have been commanded to kill everyone who is not of your faith so they can go to Heaven. Is that correct?"

The expression on his face changed from one of authority and command to that of a little boy who had just gotten caught with his hand in the cookie jar. He sheepishly replied, "Yes."

I then stated, "Well, sir, I have a real problem trying to imagine Pope John Paul commanding all Catholics to kill those of your faith or Pat Robertson or Dr. Stanley ordering Protestants to do the same in order to go to Heaven!"

The Imam was speechless.

I continued, "I also have problem with being your friend when you and your brother clerics are telling your followers to kill me. Let me ask you a question. Would you rather have your Allah who tells you to kill me in order to go to Heaven or my Jesus who tells me to love you because I am going to Heaven and He wants you to be with me?"

You could have heard a pin drop as the Imam hung his head in shame.

Chuck Colson once told me something that has sustained me these 20 years of prison ministry. He said to me, "Rick, remember that the truth will prevail." And it will!

- Rick Mathes, leader, Mission Gate Prisen Ministry
---
"I Am that I Am"
When I think about God, I know his name. He said somewhere, back in the Old Testament, "I want you to go out, Moses, and tell them 'I Am' sent you." He said just to make it clear, let them know that "my last name is the same as my first, 'I Am that I Am.' Make that clear. I Am."

And God is the only being in the universe that can say "I Am" and put a period behind it. Each of us sitting here has to say, "I am because of my parents; I am because of certain environmental conditions; I am because of certain hereditary circumstances; I am because of God." But God is the only being that can just say, "I Am" and stop right there.

"I Am that I Am." And He's here to stay. Let nobody make us feel that we don't need God. As I come to my conclusion this morning, I want to say that we should search for him. We were made for God, and we will be restless until we find rest in him. And I say to you this morning that this is the personal faith that has kept me going.
-- excerpt from a sermon by Dr. Martin Luther King, Jr., preached at New Covenant Baptist Church in Chicago on April 9, 1967
---
Celebrate BWA Day!

February 1, 2004
Baptists Together In Christ ... in Justice, in Evangelism, in Aid, in Fellowship

The Baptist World Alliance,
the official global fellowship of Baptists uniting 211 Baptist conventions/unions, was started in London, England, in 1905 at the first Baptist World Congress.
For more than a hundred years, Baptist leaders had written of the need of an organization to bring Baptists, a highly autonomous people, together. Ninety five years later, the BWA still exists to provide fellowship, meet human need, lead in evangelism and work for justice.
The Baptist World Alliance
is best described as a fellowship of believers around the world. Because Baptists do not have one central authority they choose to work together in the BWA.
In the BWA we:
(1) encourage our brothers and sisters as they struggle under very difficult circumstances to proclaim the good news of Jesus Christ,(2) learn first-hand from believers around the world how God is working among them,(3) network with Baptist leaders from six continents and become conduits of hope,(4) pray with Baptists who suffer from religious, government or economic injustice and work with them for religious freedom and justice, and
(5) deepen and strengthen our Baptist roots and identity.
The purpose of the Baptist World Alliance is
to empower and enable national Baptist leaders to effectively witness and minister in the name of Jesus Christ and to represent and support Baptists throughout the world in defense of human rights and religious freedom.
The Baptist World Alliance
is a fellowship of 211 Baptist unions and conventions comprising a membership of more than 47 million Baptized believers. This represents
a community of approximately 110 million Baptist
ministering in more than 200 countries. The BWA unites Baptist worldwide, leads in world evangelism, responds to people in need and defends human rights.
The Goals of the BWA
To Unite Baptists Worldwide.
To Lead in World Evangelization.
To Respond to People in Need.
To Defend Human Rights.
The Baptist World Alliance
defends the right of every man, woman and child to exercise their freedom of religion. From our early history Baptists have suffered, fought for, and defended religious freedom for all people. The BWA speaks to governments on behalf of Baptists in many parts of the world continually struggle to freely worship.

(2004. January)
My Study at Cedarville
by Istvan Miko
These past few months (since August) I have been attending Cedarville University, an accredited Baptist Liberal Arts University. I am enrolled in the 1-year Bible program at the school, which will simply give me a Certificate, not a degree. Your first question might be, Why Cedarville? Why not Bible college or Seminary? My immediate answer is that this is where I desired to go and where I believe God wanted me to go, but there are other reasons as well, and I=d like to start by describing the school and my reasons for attending.
Cedarville=s Bible program is not less credible simply because it is not a Bible college. Some of the professors have written numerous commentaries and books, and many would be qualified to teach seminary-level courses. I also really liked the school=s focus. The school believes that not everybody is called to vocational ministry. In light of this, the school has over 100 programs of study, including pre-medical, pre-law, engineering, business, graphic design, broadcast arts, music, and pre-seminary, to name a few. The school is committed to excellence and professionalism and is featured in several national publications.
All students attending Cedarville, no matter what major they are, must complete a minor in Bible. But the school has a huge focus on spiritual development outside the classroom as well. It has over 150 local and world-wide ministries to get involved with, and Cedarville=s sports teams usually travel to different parts of the world every summer to play with foreign students and share the gospel. The past summer Cedarville=s basketball team was in Gyöngyös, Hungary, where they played Basketball with students there and shared the gospel and their testimony with them. Each year, the school sends a group of new graduate students to teach at the University of Tianjin in China. The Chinese usually do not allow foreigners to teach at their Universities, but Cedarville teachers are allowed. They say that Cedarville students are respectful, honest, hardworking, and trustworthy, which gives the Chinese students a good impression of foreigners. Even though they are not openly proclaiming the gospel, the university knows they come from a Christian school and has asked some of the teachers to start a Bible class at the school. The new class has the students read the entire Old and New Testament, and the objective of the course is to figure out who the prophecies of the Old Testament are referring to, and why this person is the central character of the Bible.
One of Cedarville=s local ministries is Open Heirs, which is something that I was a part of this past semester and will continue to be a part of next semester. Every Friday night we go to the neighboring large cities (Dayton, Columbus, and Cincinnati) and share the gospel with the homeless people and anyone else that we come into contact with. We also bring them food, blankets, and warm clothes to wear over the winter season, and this way we establish a relationship with them. I have talked to some people that have never heard the gospel, never heard about what Christ did on the cross for them. It has taught me a lot about how people view God, the Bible, and life in general, and has given me experience in dealing with some of the tough questions people ask such as, Aif there is evil in the world, how can God exist?@
Another local ministry that I am involved with is called The Barn, which is a ministry for Jr. and Sr. high students. We meet at an old tobacco barn that was transformed into a huge recreation center for students. ... Every Friday and Saturday night, students from all over the Dayton area are encouraged to come to the Barn, and we usually get anywhere from 75-150 students. During the night, there is an optional devotional time where the owner of The Barn speaks to the students about God. Many of the students that come are not Christians, and many have never heard the gospel. The purpose of my ministry at the Barn is to establish relationships with the students, be a positive role model for them, and be ready to share the gospel with them if the conversation comes up. It is a very relaxed and laid back environment, and we hope that students will come to enjoy themselves and perhaps hear the good news of Christ in the process.
Cedarville offers many opportunities for students to develop leadership. Events that the school hosts are run by staff members, but students are also in leadership positions. One event that I helped in was Blowout, a huge high school youth conference where about 3,000 students from all over the Midwest came for a time of worship and preaching. ... Another event that I helped out with was Junior Jam, an event that the university hosts that brings about 1,000 kids ages 9-12 for a time of fun activities and learning about God. I was a group leader for about 10 kids.
There are also leadership seminars set up for the students to attend that teach leadership in all areas of life. I have attended one of these, and I plan to attend more next semester.
In addition to all of these, the school=s student life also attracted me to it, which includes 14 intercollegiate sports, 60 student organizations, concerts, ... the school=s café, two student-run radio stations, indoor and outdoor soccer fields, volleyball courts etc. Overall, Cedarville has a great focus, great ministry opportunities, and great student life, and these are just some of the things that attracted me to it.
While Bible college and seminary offer great classes and might offer ministry opportunities, I really like Cedarville=s balance of theoretical and practical knowledge, and since I am only doing this for one year, the one-year Bible program gives me a more well-rounded education for one year than the first year of Bible college or seminary would give me as I am taking Freshman (1st year) to Senior (4th year) level courses. So another question you might be asking is, Why are you only doing this for one year? And what is your purpose in this year? I will answer these questions a bit later, but first I=d like to say a little bit about the classes I just completed and the classes I will be taking in the spring semester.
Christian Life and Thought is a 1st year course that all students at the school must take. It is a class on foundational Bible doctrines such as the deity of Christ, inherency of scripture, redemption of man, and even advanced theological topics such as predestination and Calvinism. It is a course that addresses the five main questions that make up the "worldview" of a person, which is the lens through which a person views his or her world. The questions are: What is real, what does it mean to be human, what has value, what is wrong with the world and how should it be fixed, and where is history going.
Spiritual Formation is a continuation of Christian Life and Thought, with emphasis on personal devotions and how to effectively study the Bible. The inductive Bible study portion of the class taught us how to move from making observations about a Biblical passage to finding the big idea of the passage, and then understanding the practical implications. This was taught in a way that the whole process could be accomplished in 2 an hour's time, making it an effective devotional preparation. The class also focused on spiritual disciplines, such as a consistent prayer life, overcoming sin and vices in your life, the role of the Holy Spirit in the life of a believer, and topics such as how we can know the Bible is trustworthy.
The book of Revelation was a detailed study of each chapter of the book with a complete outline of future events, the book's exaltation of Christ, and how the book is useful in a practical way today.
The Pentateuch was a study of the first five books of Moses. Mainly, the class was more of a course that taught us how to study the books instead of just understanding the plot. It was amazing to see how books such as Leviticus, (Moses' 3rd book) mostly viewed by people as an outdated book of Hebrew laws, is such an incredible demonstration of the things that we would have to do to cleanse ourselves were it not for the death of Christ. One of the most important focuses of the class was how the entire Old Testament and the Pentateuch in particular points to the coming Messiah. At the end of the class, each student had to "teach" the class, taking a particular passage in the Pentateuch (mine was Numbers 10-20) and teach the class what is being said, what the author's intent to HIS audience was, and how this applies to us today. We also took a trip to New York City and Philadelphia to several museums in which we took a look at artifacts that would have been used during the times of Abraham, Joseph, and Moses. One of the most fascinating things in the Brooklyn Museum was a knife found recently in Egypt (dated around the time of Joseph). This type of knife is ONLY used in Israel today. This is a possible shred of evidence that could prove that the Israelites were indeed in Egypt during the time of Joseph.
The last class I had was Teaching and Interpreting the Bible. It was a 6-credit hour class that focused on both correctly interpreting the Bible and creatively teaching it to your target audience. It was probably the most practical class that I had, and we had to write four lesson plans to different target audiences during the class. At the end of the class, each student had to teach one of their prepared lessons. I have already used the knowledge gained from this class a few weeks ago when I taught my church's junior high group, about 80 students.
Next semester I am taking Old Testament Survey, New Testament Survey, Thessalonian and Pastoral Epistles, Romans and Galatians, Introduction to Philosophy, Personal Evangelism, and Leadership in Christian Education. I look forward to all of the things I=ll be learning in these classes.
What is my purpose for this year? It=s simple. I don=t have a calling to be a pastor or missionary. That might be God=s will for my life someday, but not today. However, we live in an incredible country with the privilege and opportunity to attend a Christian college or seminary. Why not use this privilege? I think it would be beneficial for every young person to attend a year of Bible College or a Christian college right after high school or after college. The way I see it, you=ll have the rest of your life to work at your job, and many get married soon after college. This is one of the only opportunities to take a year off and not only better your understanding of the Bible, but to also grow in your personal relationship with Jesus Christ. For those of you living in Chicago, Moody Bible Institute is just on your doorstep. For those in New York, Word of Life Bible Institute (near Albany) has a pretty good program. For those living in Cleveland, Cedarville is only a 3 hour drive. What do I personally hope to gain from this year? Simply put, the same thing Cedarville=s mission statement states: Develop a heart for God, mind for truth, friends for life, and service for eternity.
---
IT IS NO SECRET

Back in the 50's there was a well known radio host/comedian/song writer in Hollywood named Russ Hamblin who was noted for his drinking, womanizing, partying, etc. One of his bigger hits at the time was "I won't go hunting with you Jake, but I'll go chasing women".

And along came a young preacher holding a tent revival. Hamblin had him on his radio show, presumably to poke fun at him. And to gather more material, Hamblin showed up at one of the revival meetings. Early in the service the preacher announced, "There is one man in this audience who is a big fake." There were probably others who thought the same thing, but Hamblin was convinced that he was the one the preacher was talking about (some would call that conviction), but he was having none of that.

Still the words continued to haunt him until a couple of nights later he showed up drunk at the preacher's hotel door around 2 am. Demanding that the preacher pray for him. But the preacher refused, saying,

"This is between you and God and I'm not going to get in the middle of it."

But he did invite Russ in and they talked until about 5 am at which point Russ dropped to his knees and with tears, cried out to God.

But that is not the end of the story. Russ quit drinking, quit chasing, quit everything that was "fun". And began to lose favor with the Hollywood crowd. He was ultimately fired by the radio station when he refused to accept a beer company as a sponsor. Hard times were upon him. He tried writing a couple of "Christian" songs but the only one that had much success was "This Old House", written for his friend Rosemary Clooney.

As he continued to struggle, an old friend named John took him aside and told him all your troubles started when you "got religion" and asked if it was worth it all. Russ answered simply,"Yes". Then his friend said,

"You liked your booze so much. Don't you ever miss it?" And the answer was, "No".

John then said, "I don't understand how you could give it up so easily." And Russ's response was, "It's no big secret. All things are possible with God." To this John said, "That's a catchy phrase. You should write a song about it."

And as they say, the rest is history. The song Russ wrote was It Is No Secret - It is no secret, what God can do. What He's done for others, He'll do for you. With arms wide open, He'll welcome you. It is no secret, what God can do. etc...

By the way, the friend was John Wayne, and the young preacher who refused to pray for Russ Hamblin was Billy Graham. And now you know "the rest of the story." (nn)

List of Previous Issues (ARCHIVE)

|SEPTEMBER 1997-AUGUST 1998 ISSUES| {EvHir-English1}

|SEPTEMBER 1998 - JUNE1999] {EvHir-English2}
[JULY1999 - DECEMBER1999] {EvHir-English3}

|YOUTH PAGE -ENGLISH CONTENT| |BACK HOME|